Warning: This video contains disturbing images.
Jackson, Mississippi is no stranger to racially motivated crimes. On June 26th, James Craig Anderson became another victim of the White Supremacy Hate Crimes in Jackson, Mississippi. A group of teens were partying and decided to go out and hunt down a black man to beat and kill. They pulled into the first parking lot off of the high way and that is where they found James Anderson. They brutally beat him, shouting racial slurs and White Supremacy. When the teens pulled out, James Anderson had started stumbling along the side of the road and that is where the teens intentionally drove him over killing him.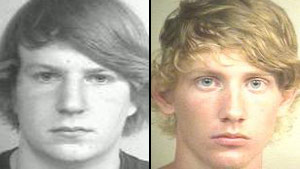 Deryl Dedmon, Jr., right, could face two life sentences in connection with the killing. John Aaron Rice, left, has been charged with simple assault.
It makes you wander where do these boys get their hatred from. Did they learn the hate from their parents, friends or society? Their parents failed the boys by not teaching them compassion and allowing them to believe they can get away with a heinous crime like the one they committed against James Anderson. I have no compassion or understanding for anyone that is capable of committing a hideous crime like these two boys have committed. Their parents are just as guilty as Deryl Dedmon and John Rice, they raised these boys and fed them the anger and hatred they needed to commit the crime against another human being. Their hatred became the smoking gun in their crime against James Anderson.
The mission of the James Anderson Foundation For Racial Tolerance.
"The mission of the foundation is to promote racial tolerance, unity and understanding particularly in the Jackson, Mississippi metropolitan area, the state of Mississippi and in the United States. Funds raised by the foundation will be used to sponsor seminars, social events, community meetings and other events to encourage a dialogue to promote racial unity, understanding and tolerance."